A TRIBUTE TO THE MOST FAMOUS MOVIE & TV CARS OF ALL TIME
BRAMPTON BATMAN AND HIS BATMOBILE
Brampton Batman is back with his Batmobile by popular demand. This caped crusader patrols the streets of Ontario doing good deeds and visiting children in hospitals. He made a big splash at the Auto Show a couple of years ago and people have been asking for a return engagement. This year will be even better because visitors will be able to pose for photos with Brampton Batman and his Batmobile, and there will also be a Mini-Batmobile that kids can sit in while having their pictures taken. 

Signed as "one of the originals" by "Dukes Of Hazzard" star Tom Wopat, and other cast members from the original TV series this is Paul Harrington's General Lee Dodge Charger.  Paul is Canada's biggest  "Dukes" fan. He has one of the biggest collections of "Dukes" memorabilia in the world.  Paul is also bringing his travelling "Dukes Musuem" complete with original props from the TV show and movies to the Auto Show. This General Lee still wears its original battle scars, but that and the Hollywood history behind it is what makes it so unique and valuable.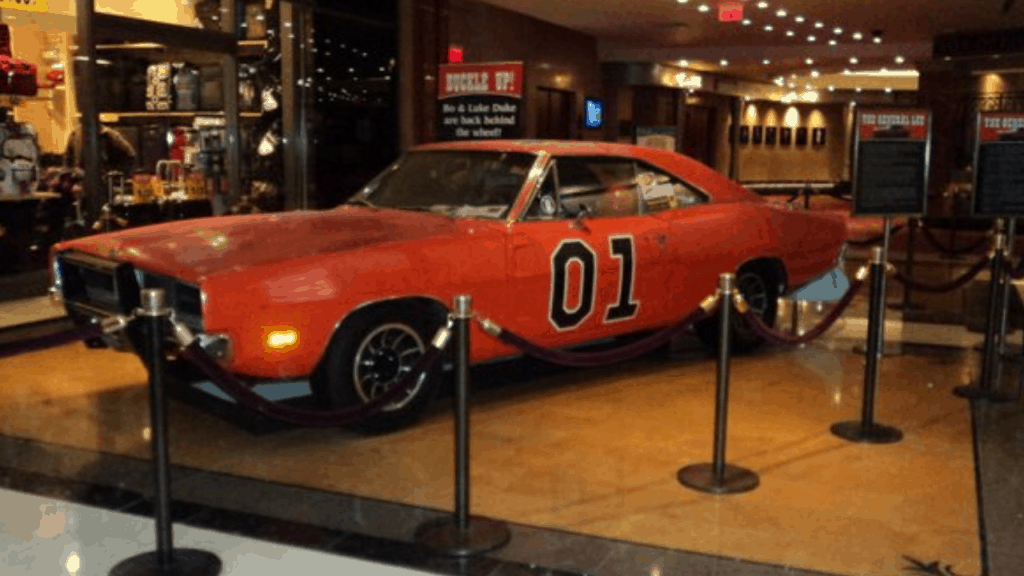 Everyone remembers Daisy Duke from the "Dukes Of Hazzard", and they also remember her Jeep CJ7. This "Dukes" tribute vehicle is owned by Rob Murphy and is a perfect match for the Jeep that appeared in the original TV series. Daisy's Jeep is part of Canada's best "Dukes Of Hazzard" display, a feature attraction and part of this year's Ottawa Gatineau International Auto Show "Hollywood Star Car Exhibit". 
Canada's best "Dukes Of Hazzard" exhibit wouldn't be complete without one of the police cars that gave chase each week to the General Lee Dodge Charger. The TV series and movies were about car chases and jumps more than plot.  This 1977 Dodge Monaco is fresh out of the paint shop. Autographed by "Dukes" cast members and dozens of other celebrities, it pays tribute to Sheriff Rosco P. Coltrane's and Hazzard County police cruiser. This car is part of the  Paul Harrington collection. 
Canadian "Dukes" fan Rob Murphy shares his tribute 1969 "Boss Hogg" Cadillac Deville with us as part of Canada's best "Dukes Of Hazzard" exhibit. Complete with Bull Horns and bright white paint, this Cadillac memorializes an era when huge cars were a symbol of success and in the case of "Boss Hogg" excess. Interest in the "Dukes" TV series and movies remains strong today and one of the main reasons is the cool cars that were featured on screen.
1957 PLYMOUTH
- CHRISTINE -
She is pure evil and has been known to kill anyone that comes between her and her owner. She upstaged the stars in the Stephen King movie that stole her name. Now "Christine" comes to Ottawa. This freshly restored 1957 Plymouth is owned by Jason Simpson, who brought "Christine" back to life as a tribute to the iconic horror film, and  the original "Christine".
In "2 Fast 2 Furious" a Ferrari 360 Spider made a brief but memorable appearance. Now Ottawa's own Sylvain La Salle brings his Spider to the Auto Show as part of our Hollywood Star Cars exhibit. The red 360 Spider pays tribute to the most successful series of car movies in history. Even without the ties to the film this 360 Spider is an impressive piece of automotive engineering and design. It's an exclusive and wickedly fast car, and just getting near it will leave you breathless.